Tools of the Trade
Mary's twelve foot Cranbrook loom in her studio at Alley Poyner Macchietto Architecture, Omaha, NE
latest news
New Tapestry Installation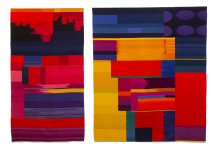 In December, Mary's recently completed ikat diptych was installed at the Susan Thompson Buffett Foundation. The massively scaled Pink and Yellow Tapestries were commissioned to enhance the warmth and vitality of the foundation's lobby.
---
Mary Receives NAC Individual Artist Fellowship Award
The Nebraska Arts Council's Individual Artist Fellowship program recognizes exemplary work by Nebraska artists and provides support through public recognition and monetary awards. The program rotates annually, highlighting different artistic disciplines each year. Mary, along with eight other artists were chosen to receive this 2019 grant for visual arts.
Interweave Press Taps Mary to Create Ikat Book
This year Mary is writing an introductory level book about ikat techniques and processes to be released in 2019. Interweave Press will be publishing the inspirational book featuring both natural and synthetic dye formulas and processes, in addition to instructional ikat projects.
NET Television Interviews Mary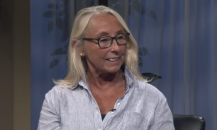 Consider This with Cathy Wyatt interviewed Mary for an episode about the UNMC Healing Arts program. View the episode here.
---
Mary Begins Fifth Year of Artist, Inc. Facilitatorship
Omaha Creative Institute begins its fifth season of Artist, Inc. on Tuesday evenings September 11 through October 30th. Mary will share her professional and creative experience with a new group of Artist, Inc. cohorts.
Great Plains Textile Center's Founding Board of Directors
To help launch the newly formed Great Plains Textile Center, Mary will serve as an adviser to the board of directors. The center's mission is to provide instruction, inspiration, equipment and materials to ignite textile arts within our community. 
Omaha Magazine Feature's Mary and Her Work at the Buffett Cancer Center
In the September/October issue of Omaha Magazine, Kim Reiner interviewed Mary about her recent installation at UNMC's Buffett Cancer Center lobby. Visit their website to read the article.
Fred and Pamela Buffett Cancer Center Tapestries Installed
Mary's most recent commission, the Healing and Hope tapestries for UNMC's Buffett Cancer Center lobby were installed Saturday, April 29, 2017. These ikats took 12 months from conception to reveal. There are approximately 1000 dyepots of yarn, 358,560 square inches of ikat and tapestry which took Mary and her three studio assistants one year to complete.
---
---
Hope and Healing Tapestries Receive Best OEAA Public Art Award for 2017
In February, Mary was honored to receive the OEAA award for Best Public Art from the Omaha Arts and Entertainment Awards.

Visit the OEA website.
---
---
Holland Performing Arts Center Acquires Mary Zicafoose's Tapestries for Zinc Cafè
The new cafè at the Holland Performing Arts Center in Omaha was dedicated in May. Omaha Performing Arts selected four tapestries from the Mountain for the Buddha Series.
---
Mary receives the WCA Tribute to Women Award
The WCA's signature event, Tribute to Women celebrates extraordinary women in our community, recognizing their service and dedication to making Omaha a better place for all those that live here. Mary was honored to be a 2015 recipient of this award from the WCA.
---
Nebraska Cultural Endowment Blog Features Mary's Perspective on Her Career
In June, the blog of the Nebraska Cultural Endowment featured an article about Mary's introduction to textiles. Read her narrative on the What's Your Livelihood blog.
---
Follow Mary on Facebook
To see what's new and happening in the Mary Zicafoose Textiles studio, "Like" the Mary Zicafoose Textile Facebook page.
events schedule 
January 24-March 6, 2020
Mary Zicafoose: Ikat 
Lied Center for the Arts Gallery
Solo Exhibition of New Work of Textiles and Prints
Creighton University
Omaha, NE
Opening Reception Friday January 24, 5-8pm
Gallery Talk, 4:30 PM

March 19-22, 2020
The Ikat Scarf - Three Day Workshop and Lecture
New Orleans Weaver's Guild
New Orleans, LA
April 3-11, 2020
Guizhou, China Textile Trip

May 2020
Ikat: The Essential Handbook to Weaving Resist-Dyed Cloth book release


May 1-3, 2020
Ikat: The Essential Handbook to Weaving Resist-Dyed Cloth Workshop
Omaha Weavers and Spinners Guild

April 24-June 6, 2020
Between Friends: Cloth/Dye + Canvas/Paint
Mary Zicafoose & Jane Carney 2020 Alumnae Exhibition
Hammes Gallery
St. Marys College
Notre Dame, IN
Opening Reception: April 24, 5-7 pm
Reunion Reception: June 6

June 11, 2020
HOMECOMING: Mary Brelowski Zicafoose/Tapestries & Prints
The Grand LV, Niles, Michigan
Opening Reception 6-8 pm,
Sponsored by Niles Public Art Commission & Niles Art Association

July 24-30, 2020
Convergence 2020
Handweavers Guild of America
Knoxville, TN
3 day workshop: The Shifted Warp Ikat Scarf

October 1-6, 2020
Rug Weaving Basics and Next Level Rug Weaving Workshops
Yadkin Valley Fiber Center
Yadkinville, NC

October 13, 2020
Evening Lecture: Ikat, Icons, and Inspiration
Maiwa School of Textiles.
Vancouver, BC, Canada

October 14-18, 2020
The Ikat Scarf: 5 day workshop
Maiwa School of Textiles,
Vancouver, BC, Canada