Textiles make a museum
History, 2015. Installed at Art Seen exhibition, Joslyn Art Museum, Omaha, Nebraska. Weft faced ikat tapestry, diptych, 59" W x 156" L, wrapped, dyed & woven wool and silk/bamboo on linen warp, 2015
latest news
UNMC Acquires Zicafoose Tapestry 
The UNMC Center for Drug Discovery and the Lozier Center for Pharmacy Sciences and Education recently added a Mary Zicafoose ikat, Mountain for the Buddha: Envy II, to their permanent collection. The new building dedication was held on August 23, 2016.
---
Penland Students Study With Mary
The spring textile intensive, Artist and Weaver has come to a successful conclusion. Over a period of eight weeks, twelve outstandingly talented students worked closely with Mary to develop their studio practice.
---
Mary Thrilled to Receive Accolade in the Arts
On January 17, 2016 Mary was honored to be named the 2016 Best Visual Artist by the Omaha Arts and Entertainment Awards.

Visit the OEA website.
---
---
Holland Performing Arts Center Acquires Mary Zicafoose's Tapestries for Zinc Cafè
The new cafè at the Holland Performing Arts Center in Omaha was dedicated in May. Omaha Performing Arts selected four tapestries from the Mountain for the Buddha Series.
---
Mary receives the WCA Tribute to Women Award
The WCA's signature event, Tribute to Women celebrates extraordinary women in our community, recognizing their service and dedication to making Omaha a better place for all those that live here. Mary was honored to be a 2015 recipient of this award from the WCA.
---
Nebraska Cultural Endowment Blog Features Mary's Perspective on Her Career
In June, the blog of the Nebraska Cultural Endowment featured an article about Mary's introduction to textiles. Read her narrative on the What's Your Livelihood blog.
---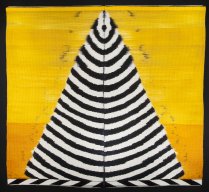 Mary's Mountains & Ghosts Show Reviewed in Surface Design Journal
Read the review by Suzanne Smith Arney.

Article is provided courtesy of Surface Design Journal.
---

Mary Zicafoose Studio Welcomes the Return of Anna Dewy Greer
Previously, Anna worked with Mary as a studio assistant from 2009 until 2011. Anna has returned from Los Angeles and will again be assisting Mary in her studio.
---
An Interview With Mary Zicafoose
---
mary continues to serve as chairwoman for the UNION for contemporary art board
Mary volunteers her experience for the board of directors for the UNION for Contemporary Art in Omaha, Nebraska. The Union's mission is to strengthen the creative culture of Greater Omaha. In addition to serving local non-profits, Mary also serves nationally and internationally as the co-director of the American Tapestry Alliance, and is an immediate past board member of GoodWeave USA.
---
Follow Mary on Facebook
To see what's new and happening in the Mary Zicafoose Textiles studio, "Like" the Mary Zicafoose Textile Facebook page.
events schedule 
September 6-October 25, 2016
Artist, Inc. Facilitator
Omaha Creative Institute
Omaha, NE

October 5-29, 2016
Expressions in Fiber Art V
Connect Gallery, 3901 Leavenworth Street
Omaha, NE
Opening Reception: October 7, 5:30-9:00 pm

October 7-November 4, 2016
Materials/Crafts/Arts
Gallery 72
1806 Vinton Street, Omaha, NE
Opening Reception Friday October 7, 5-9 pm

October 19-23, 2016
Textile Society of America Symposium 2016
Savannah College of Arts and Design
Savannah, GA

November 15, 2016
10th International Shibori Symposium Exhibition
Central de las Artes de San Agustín
Oaxaca, Mexico

December 2-January 28, 2017
Craft Forms 2016
Wayne Art Center, Wayne, PA
Opening Reception: Friday December 2

January 27-February 17, 2017
India Textile tour, with Charllotte Kwon, MAIWA Handprints 

March 24-26, 2017
Understanding Ikat: 3 day workshop
Lecture, March 23, 2017
Weavers Guild of Minnesota/Textile Center of Minnesota
Minneapolis, MN

May 4-7, 2017
Color, Content & Creativity: 3 day workshop
Conference of Northern California Handweavers
Asilomar Conference Center
Pacific Grove, CA

May 31-June 4, 2017
"Crossing Threads — Connecting Cultures"
Contemporary Handweavers of Texas Biennial Conference
Workshops and Lecture

September 6-10, 2017
Natural Dyes and Ikat Workshop
Maiwa School of Textiles
Vancouver, BC, Canada
October 2017-January 2018 
Mississippi Grasslands: Mary Zicafoose New Work from the Prairie
University of Mississippi Museum of Art
November 5-11, 2017
Arrowmont School of Craft, Gatlinburg, TN
Color, Content & Creativity: New Strategies for New Work
---
galleries
Penland Gallery
Penland School of Crafts
P.O. Box 37
Penland, NC 28765
828.765.6211  
Michigan Artists Gallery
309 N. St. Joseph
PO Box 272
Suttons Bay, MI 49682
231.271.4922