Two Good Friends
Mary poses with one of her 12 foot Cranbrook looms in her studio. 
latest news
Follow Mary on Facebook
To see what's new and happening in the Mary Zicafoose Textiles studio, "Like" the Mary Zicafoose Textile Facebook page.
---
Mary To Receive the WCA Tribute to Women Award
The WCA's signature event, Tribute to Women celebrates extraordinary women in our community, recognizing their service and dedication to making Omaha a better place for all those that live here. Mary is honored to be a recipient of this award from the WCA. A luncheon for the awards ceremony is being held at the Downtown Omaha Hilton on June 2, 2015, 12p-1p. For tickets, please contact the WCA.
---
Nebraska Cultural Endowment Blog Features Mary's Perspective on Her Career
In June, the blog of the Nebraska Cultural Endowment featured an article about Mary's introduction to textiles. Read her narrative on the What's Your Livelihood blog.
---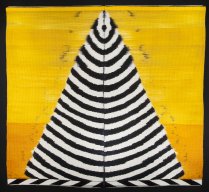 Mary's Mountains & Ghosts Show Reviewed in Surface Design Journal
Read the review by Suzanne Smith Arney.

Article is provided courtesy of Surface Design Journal.
---
New Studio Assistant
Mary Zicafoose Textiles welcomes Mary Gurnaud to the family of fun, talented, and dedicated studio assistants who have worked with Mary over the years. Mary is a Minnesota transplant who has studied wine in France, and is currently cultivating her own textile practice. Also central in her life are cats and science fiction, and very soon, the fine and acquired art of wrapping ikat.
---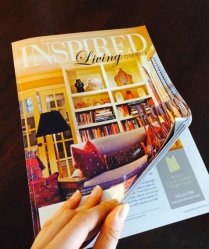 Mary's Home and Studio Featured in Omaha's Inspired Living Magazine

Read about Mary's home and studio in the January/February 2014 issue of Omaha's Inspired Living.
---
New Community Engagement Center at UNOmaha Campus to Feature Mary's Large Scale Tapestry Installation 
The new Community Engagement Center at the University of Nebraska - Omaha will be dedicated April 17, 2014. The installation will feature an 8' x 55' composite tapestry designed by Mary.  
---
Mary Will Be Teaching at Penland This Summer
Tapestry: wrapped/unwrapped

Drawing upon over three decades of tapestry & rug weaving, this is a rare opportunity to work in depth with Mary sharing the foundation elements of her art practice. Instruction will include color theory, loom etiquette, signature tapestry and weft faced ikat design, dye and weaving techniques, finishing work for exhibition and sales, ethics, practices, and creative exercises. This is an extremely comprehensive workshop addressing aesthetic and technical solutions for creative non-loom controlled process for weavers of all levels. Registration begins Feb 1 at www.penland.org.
---
Read Mary's Designer Profile in Omaha HOME Magazine
The March-April issue of Omaha HOME Magazine interviews Mary for a Q&A session as their featured artist. You can browse the article on their on-line reader.
---
An Interview With Mary Zicafoose
---
mary joins the UNION for contemporary art board, elected chairman
Mary has been elected to the position of Chairman of the Board for the UNION for Contemporary Art in Omaha, Nebraska. The Union's mission is to strengthen the creative culture of Greater Omaha. In addition to serving local non-profits, Mary also serves nationally and internationally as the co-director of the American Tapestry Alliance, and is an immediate past board member of GoodWeave USA.
carpeting the contemporary world
Mary Zicafoose Textiles Hand Knotted Carpets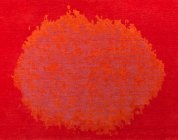 Mary has expanded her textile line to include the production of her designs as exquisite, contemporary hand-knotted carpets.
Photo on left: Detail, Red Tapestry Series: Orange Dots.
For more information about the Mary Zicafoose line of carpets, visit the Carpets section of this website.
---
events schedule 
May 16, 2015
de Young Museum Fine Arts Museum of San Francisco
San Francisco, CA
Textile Arts Council Lecture 10:00 am
Color Fields: Ikat, Tapestry and Contemporary Art
May 17 - 19, 2015
Tapestry Weavers West Talk and 3 days of Workshops: Inspiration, Color, and Conjecture
contact: Alex Friedman aqsfriedman@gmail.com
May 18, 2015
Golden Gate Weavers Guild Talk 7:00 pm
Berkeley, CA
contact: Lilia Rosenheimer lrosenheimer@gmail.com
June 20 - October 11, 2015
Art Seen: A Juried Exhibition of Artists from Omaha to Lincoln
Joslyn Art Musuem
Omaha, NE
October 5-7, 2015
Indigo and Ikat: New Paths for Ancient Partners
Surface Design Association Pre-Conference Workshop
Arrowmont School of Craft
Gatlinburg, TN
March 13 - May 6, 2016
Artist and Weaver: Two Month Concentration
Penland School of Craft
Penland, NC
---
galleries
The Bemis Center for Contemporary Arts
724 South 12th Street
Omaha, NE 68102
Gallery 72
1806 Vinton Street
Omaha, NE 68108
402.496.4797 
Anderson O'Brien Fine Art
1108 Jackson Street
Omaha, NE 68102
402.884.0911
Michigan Artists Gallery
309 N. St. Joseph
PO Box 272
Suttons Bay, MI 49682
231.271.4922