Textiles make a home
Map, 2015. Private home commission. Weft-faced ikat tapestry.
Wrapped dyed and woven wool, silk/bamboo on linen warp.
latest news
University of Mississippi Museum Showing Fault Lines Exhibition in October
Mary's new ikat and print exibition, Fault Lines, opens October 3, 2017 and runs through February 3, 2018 at the University of Mississippi Museum. Download the museum folio.
Omaha Magazine Feature's Mary and Her Work at the Buffett Cancer Center
In the September/October issue of Omaha Magazine, Kim Reiner interviewed Mary about her recent installation at UNMC's Buffett Cancer Center lobby. Visit their website to read the article.
Fred and Pamela Buffett Cancer Center Tapestries Installed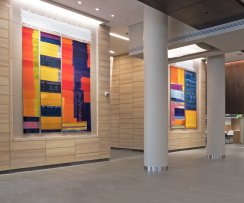 Mary's most recent commission, the Healing and Hope tapestries for UNMC's Buffett Cancer Center lobby were installed Saturday, April 29, 2017. These ikats took 12 months from conception to reveal. There are approximately 1000 dyepots of yarn, 358,560 square inches of ikat and tapestry which took Mary and her three studio assistants one year to complete.
---
Meet Our Studio Assistants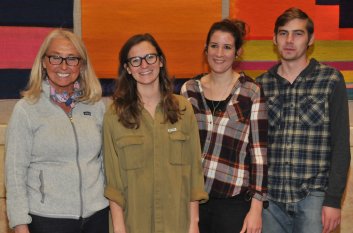 Anna Nance has been Mary's lead studio assistant since 2009 and is a graduate of the Savannah College of Art and Design. Away from the studio Anna studies herbal medicine. 
Alex Carlson is a visual artist whose background includes formal training in textiles, paper making, and two and three dimensional design. He is an extremely talented native Nebraskan and joined the studio team in October.
Sarah Kolar was born and raised in Spirit Lake, Iowa. She received a BFA from the University of Northern Iowa, Cedar Falls, in 2010. She completed her MFA for Sculpture + Expanded Practices at Ohio University in Athens, Ohio in 2015.
---
Mary Awarded Best of Show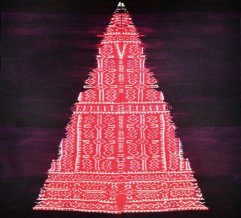 Mary's tapestry, Mountain for the Buddha: Wine was awarded the Best of Show for Craft Forms, 2016, at the Wayne Art Center in Philadelphia. 
---
---
Mary Thrilled to Receive Accolade in the Arts
On January 17, 2016 Mary was honored to be named the 2016 Best Visual Artist by the Omaha Arts and Entertainment Awards.

Visit the OEA website.
---
---
Holland Performing Arts Center Acquires Mary Zicafoose's Tapestries for Zinc Cafè
The new cafè at the Holland Performing Arts Center in Omaha was dedicated in May. Omaha Performing Arts selected four tapestries from the Mountain for the Buddha Series.
---
Mary receives the WCA Tribute to Women Award
The WCA's signature event, Tribute to Women celebrates extraordinary women in our community, recognizing their service and dedication to making Omaha a better place for all those that live here. Mary was honored to be a 2015 recipient of this award from the WCA.
---
Nebraska Cultural Endowment Blog Features Mary's Perspective on Her Career
In June, the blog of the Nebraska Cultural Endowment featured an article about Mary's introduction to textiles. Read her narrative on the What's Your Livelihood blog.
---
Follow Mary on Facebook
To see what's new and happening in the Mary Zicafoose Textiles studio, "Like" the Mary Zicafoose Textile Facebook page.