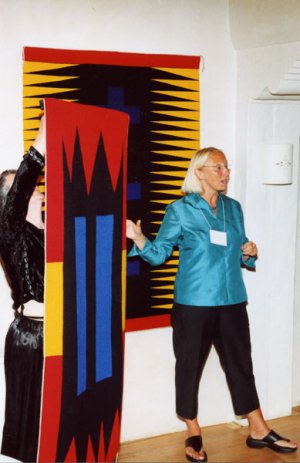 Mary giving a gallery talk at 13 Moons Gallery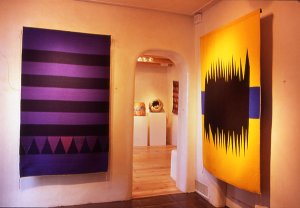 13 Moons Gallery
Go: Home » About »

Thoughts on Rugs
Thoughts on Rugs
I use color boldly, with a sure hand, creating strong visual statements in fiber. It is my relationship with color, the use of intensely dyed primaries within large planes and fields of color, which distinguishes my work.
The weaving techniques I use are very basic and as old as time itself. From the first moment I sat at a loom there was not a question in my mind that I was a weaver. Many formative years of art school and art teaching had prepared me to begin telling stories in textiles. It is here that I have spent two decades in pursuit of visual surprise on the flat woven surface.
There is something very timeless and inner-dimensional about the process of weaving. The work takes weeks. As the planet speeds along, the weaver sits hour by hour, day by day, slowly and steadily building a tapestry. No amount of adrenaline, caffeine, or technology alters the pace of the unfolding. To be a weaver is an almost surreal occupation placed against the backdrop of linear time, and the pace, demands, and deadlines of contemporary life. Nothing in the making of a tapestry happens quickly. It is a deep inward breath, a meditative activity that draws you in, not out. One that has triggered my memory of who I am and what I came to do.
My loom is where art and craft merge. A gallery wall full of tapestries begins with dozens of small hand colored drawings. From these visual ideas a woven series evolves, one piece building upon another. I am very interested in archetypal symbols and the influences and play of large saturated fields of color. This has become the language of my storytelling. I've often remarked to clients that the weaving is the grid that holds all the color together. I believe that tapestry is the pictorial and most magical form of cloth. Each tapestry is a single edition, named and uniquely positioned within its particular series.
My work has been influenced by every textile I have seen and touched. A year in South America taught me invaluable lessons about color, cloth and patience. The painter, Mark Rothko, paved the way for my intensity at the dye-pot. Besides being wonderful visual statements, my tapestries are designed, dyed and woven to inspire the senses. The people who own my pieces are drawn to their frequency, the vitality and the presence they seem to hold.
My family and I live in the center of America, on the tall grass Prairie of Nebraska. It is here that I operate a one-woman studio, designing, dyeing and weaving tapestries and rugs. I also enjoy lecturing and teaching. My work can be found in the collections of United States Embassies on three continents, in corporations and boardrooms, and in personal collections and homes.