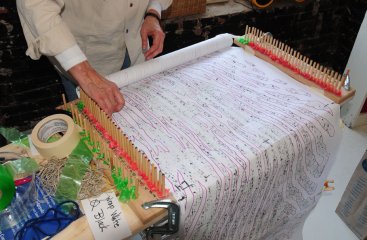 Ikat cartoon on board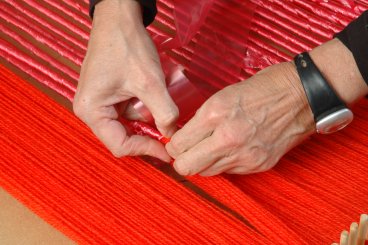 Knotting the tape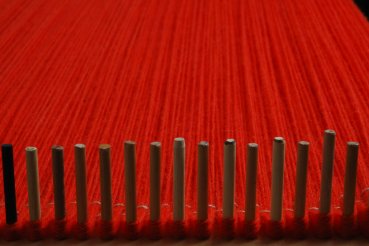 Yarn stretched on an ikat board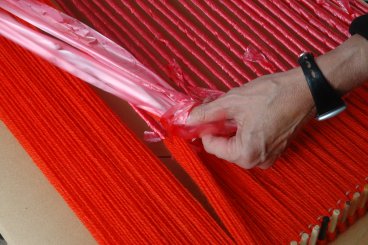 The wrapping process
Go: Home » About »

About Ikat
About Ikat
The term Ikat refers to a resist dye technique, used globally over the ages, to create designs in fabric. The technique involves measuring and stretching individual yarns, and grouping them into bundles. The bundles are then tightly wrapped following a design plan, dyed and unwrapped. The result is a fiber that when woven reveals a complex and somewhat etheric design. In a contemporary context, the ikat we are most familiar with is Japanese indigo vat-dyed cloth, colorful imported Guatemalan clothing and exotic ceremonial garments from Malaysia.
Rarely is ikat imagery and technique associated with tapestry and rug making. It is usually regulated to use with fine silk or cotton fibers, with the imagery controlled through dyeing and arranging the warp. I began experimenting with weft-face ikat in my rugs in 1987. I was looking for a way to create visual surprise and artistic spontaneity within the very contolled mathematical grid of weave structure.
The labor intensity of weaving in details and tapestry at the loom was replaced by hours at the ikat board, stretching, wrapping, and unwrapping yarns. Delight or dismay is expressed at the loom. The design either falls beautifully into place, or due to miscalculation, poor wrapping or inexact dyeing, becomes an indistinguishable mish-mash. Ikat is an adrenalized process that allows a more painterly touch to the hard edged intersections of warp & weft.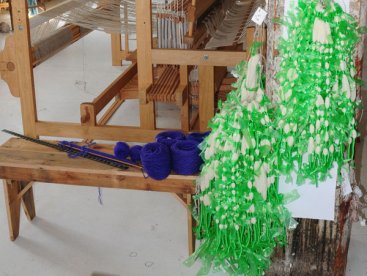 Wrapped and ready to dye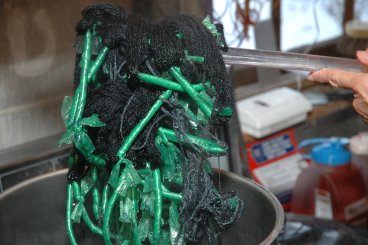 Ikat wrapped yarn