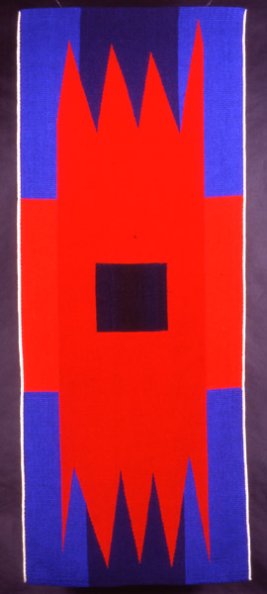 Sound of Fire
Slit woven tapestry rug
Hand dyed and woven wool on linen
Go: Home » About »

About Slit Woven Tapestry
About Slit Tapestry
Tapestry is the most magical form of cloth: graphic and narrative, technically complex, often opulent and decorative, and always immensely labor intensive. The tapestry weaver patiently weaves, day by week by month, steadily building up and manipulating colored threads, row by row, into what will become a unique and original piece of textile art.
A tapestry is characterized by the use of a non-continuous weft. Weft is the fiber that moves horizontally across the vertical warp threads, the filler. The term non-continuous indicates that many different lengths, colors, or types of fiber make up a row of weaving, sometimes hundreds of changes in a single row.
There are as many different tapestry weaving styles and techniques as there are traditions of ethnic weavers. The twisting, turning and intersecting of colored yarns into aesthetic form is a precise and exacting art. The physical laws are learned only through applied study, and much trial and error at the loom. I often use the technique of slit tapestry, a weaving style often found in kilim rugs, in my work
I weave on two, state-of-the-art, horizontal looms: an 8 foot Cranbrook and a 6 foot Macomber. Both are superb pieces of equipment for transforming simple yarns into complex tapestries and rugs. All of my pieces are made with 2-ply Crown Colony wool weft yarn from Henry's Attic on 8/3 linen rug warp from Rio Grande Weavers Supply. The weft yarns are then hand-dyed to specification, in my Omaha studio, using Pro-Wash Fast Acid Dyes from Pro Chemical.
Without an inspired design or conceptual plan, a tapestry is nothing more than an organized collection of yarn. The Art is born from a moment of passion or insight that manifests into graphic/intellectual/emotional/spiritual excitement and innovation. Tapestry is no exception. The world needs yet not another purposeless object. What it does need, are objects that speak to us so personally that we are deeply uplifted in our daily rituals and journeys.