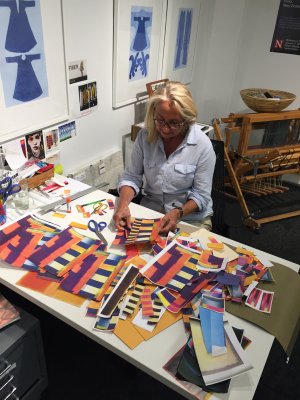 Go: Home » Workshops & Events »

Lectures
Seminars and Short Programs
* Seminar/Short Program fee is $250, plus applicable transportation expenses.
* Custom Lecture fee is $500, plus applicable transportation expenses.
Dyeing for the WOW!
How do you make fabulous color for fabulous weaving? Students learn safe and accurate use of Pro Wash Fast Acid Dyes for wool clothing, tapestry and rugs. This class is perfect for the colorfully timid or metrically challenged chemist. You will return home armed with the tools, information and confidence to become better acquainted with your inner dyer!
Class Size: 24
Level: All
Equipment: Dye studio (to be discussed)
Designing for the Wow!
How do you design non-loom controlled tapestries & rugs? Where do you begin? When do you stop? How much is too much? Learn the foundation design steps to convert great visual ideas into sound, structurally integrated textiles. Mary Zicafoose shares her journey of 23 years behind the art loom, helping you give voice to your personal direction and designs.
Class Size: 24
Level: All
Equipment: Slide projector, screen, supply list
After the Loom: Finishing, Packing and Shipping Your Treasures
Cutting the rug off the loom is only the halfway point! This seminar deals with the final 101 decisions and details of creating beautifully finished tapestries & rugs for exhibition and sale.
Class Size: 24
Level: All
Equipment: Work table, water
Dream Weavers
This is an inspirational sketchbook seminar designed for a contemplative and creatively charged atmosphere for brainstorming. Students view slides of outstanding textiles, art and nature accompanied by music and quotations. The time is spent journaling, sketching, reflecting upon, and collecting visual data for your work.
Class Size: Unlimited
Level: All
Equipment: Slide projector, screen, CD player
Symbols
This inspirational slide show and seminar highlights outstanding examples of textiles from many cultures and many hands. We trace the use of several familiar archetypal symbols found in handwork over the ages, investigating their voice and impact on the world. A variety of inter-active exercises reinforce the importance of personal symbols in our life and creative work.
Class size: Unlimited
Level: All
Equipment: Slide projector, screen, CD player
Weaver & Mystic: Women and Textiles
Through the ages it is women who have spun and dyed, woven and sewn the garments of paupers and kings. Women have also quietly carried the torch of vision and leadership as prophetess, oracles, teachers and seers. This program inquires into the cultural role of the female in articulating age-old messages and planetary themes through the use of intuition, spiritual guidance and the manipulation of fiber. We examine the lives and handwork of historical and contemporary females, through slides, music, handouts and discussion.
Class size: Unlimited
Level: All
Equipment: Slide Projector, screen, CD player
Un-warping: Re-weaving Your Life Tapestry
This seminar provides participants with a stimulating and reflective forum to identify and reinforce creative goals & purpose, rewrite personal scripts, learn techniques for stress management and renew for weaving, career, family life and personal growth. It is a golden opportunity to step out of one's life for a few hours and mentally clean house and redecorate. Handouts, exercises and resources galore are available for ample recharging.
Class size: Unlimited
Level: All
Equipment: Flip chart or chalk board, CD player
A Year Away: Adventures & Textiles from Peru & Bolivia
Slides, music and reflections on one year spent in the Andes and the Amazon Basin will scratch your itch to travel to South America. These are the fruits of a weaver's experience working for Conservation International in the Estacion Biologica Beni in the Bolivian Rain Forest. You will be touched by images of tropical flora & fauna, breathtaking vistas, lush cloud forest valleys, indigenous peoples and wonderful textiles.
Class size: Unlimited
Level: All
Equipment: Slide projector, screen, CD player