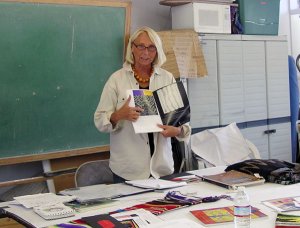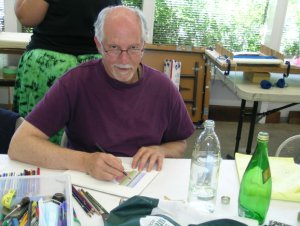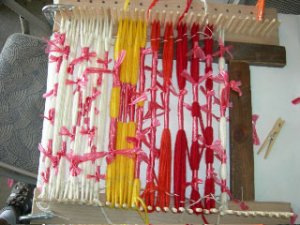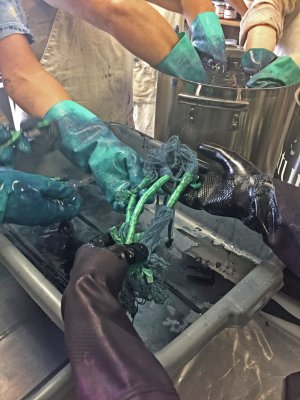 Go: Home » Workshops & Events »

1-2-3 Day Workshops
Workshops
* Workshop fee is $600/day, plus transportation, housing & meals, shipping of supplies
* Lecture fee is $250/hr, plus transportation, housing & meals, shipping of supplies
* Keynote fee is $1000, plus transportation, housing & meals, shipping of supplies
Three Day Intensive Workshop: Color, Content & Creativity: New Strategies for New Work in Cloth
Nebraska artist and weaver Mary Zicafoose will present a trifecta of one-day workshops to stimulate visual thinking and ignite and refresh your creative work. Each day will be approached as a completely self-standing unit of study accessed through carefully selected studio exercises; reflection and writing about your work; discussion and sharing of ideas, challenges and goals; and powerful media clips. The overarching framework for the three days of study is our work in textiles: the application of ideas, the influence of inspiration and the excitement of new skills specific to your personal story in cloth.
Day #1: Color - How does your use of color define you and your work? This day of applied study will help you develop your eye for color and lay a foundation to expand your versatility and color fluency. We will focus on your use of color intuition and personal voice creating a color journal using color-aid silk screened papers from selected exercises of the brilliant colorist Josef Albers.
Day #2: Creative Process - This is a fast paced full day of 2-D and 3-D design exercises, individual critique, and discussions selected to stimulate and energize your creative thinking, expanding work into a series and approaches to creating new work.
Day #3: Content - This half day segment is devoted to creating and refining your personal literature: how and what you speak and write about your work through your bio, mission statement, resume and elevator speech. We will also cover tools for greater efficiency, productivity and goal setting and set a curriculum to re-invigorate your studio practice.
Vibrant Rugs: Designing, Dyeing & Weaving for the WOW!
Mary Zicafoose shares techniques and tips from 23 years of tapestry & rug weaving. The workshop focus is on designing, dyeing, weaving and finishing contemporary non-loom controlled tapestries and rugs. Instruction will include her custom dye studio procedure, preferred tapestry and weaving techniques, and complete steps in finishing work for exhibition and sales. This is a very comprehensive class, best taught in a three-five day format.
Class Size: 20
Level: All
Equipment & Supplies: Separate attachments
Lab Fee: $15
Ikat & Embellishment: Weft-Faced Design Techniques for Tapestry & Rugs
This studio workshop teaches the precise and sequential steps required for creating weft-faced Ikat tapestries and rugs. Students warp a loom, plan a sampler, and learn to measure, stretch, wrap, dye, unwrap and weave the Ikat weft! While technically challenging, the results are dramatic and inspire many creative possibilities. This weft oriented dye process is rarely taught or explored in depth. Offered as a one-day demonstration, or two, three and five-day workshop formats, as well as an advanced level, Ikat II Workshop.
Class Size: 20
Level: Intermediate
Equipment & Supplies: Separate attachments
Lab Fee: $25
The Language of Art: COLOR
This one-day intensive dip into color will saturate your palette and provide courage at the loom and dye pot. In referring to the work of colorist, Josef Albers, students create a color workbook of 24 personal studies. After cutting and pasting through the rules, you will brave into bending theory, pigment and hue, striving to speak with a new frequency in your work.
Class Size: 40
Level: All
Equipment & Supplies: Separate attachments
Lab Fee: $25 (workshop folder and a 240 pack of color-vu silk screen papers)
The Language of Art: DESIGN
This one-day class will focus on the sequential steps required to develop your unique visual ideas into dynamic tapestry and rug designs. We will spend the day looking at images, drawing, and developing hunches into plans for a series. This is an ideal "time-out" to collect your thoughts, expand your design tools, talk about your work, and transform ideas into workable blueprints.
Class Size: 40
Level: All
Equipment & Supplies: Separate attachments
Lab Fee: $5
A Day of Dyeing
Learn to use Pro Wash Fast Acid Dyes with accuracy and safety in your home and studio. Mary Zicafoose will share proven methods of achieving color-fast saturated color, graduated color progressions, and ideas for surface design for wool tapestries and rugs. This one day comprehensive workshop will provide the novice dyer with the information and tools to begin dyeing, as well as expand and refresh the skills of the experienced colorist. Record keeping, equipment comparisons and thought on making color will be covered, as well.
Class Size: 20
Level: All
Equipment & Supplies: dye facility and contents, to be discussed
Lab Fee: $10
The Zen of Weaving: Getting Inspired, Staying on Track & Reflections on the Making of Fabric
This one-day workshop abounds with handouts and resources to nourish and nurture the busy artist, spinner and weaver. This unique fiber class provides stimulating exercises to aesthetically recharge and ample food for thought about unraveling the threads of life. Focus is on creative purpose, goal setting, stress management and staying in the flow of production and inspiration. There will be time for specific Q & A, and portfolio consultation.
Class Size: Unlimited
Level: All
Equipment: Slide projector, screen, CD player, flip chart